First off, Happy Halloween to those who celebrate it. I hope you have a fun-filled day of costumes, candy and all that jazz!
Anyway, today's topic is light bulbs. I know, boring right? In the days of being energy-conscious and "green" it seems we have a lot of choices for light bulbs. There are still those who insist on incandescent bulbs and are willing to pay the much larger electric bill associated with running those.
For those of us who are more energy conscious and on more of a shoestring budget that really isn't an option, though. That said, for those of us on the autism spectrum, it seems many of the alternatives are just absolutely unpalatable – from the compact fluroescent lights (ugh!!!!), to piercing halogens and even a lot of the LED bulbs out there which have almost a bluish tint and are way too intense.
Well, when shopping for bulbs at the Lowe's just up the road from our apartment complex, Laina and I stumbled across these in a display and decided they were just the ticket: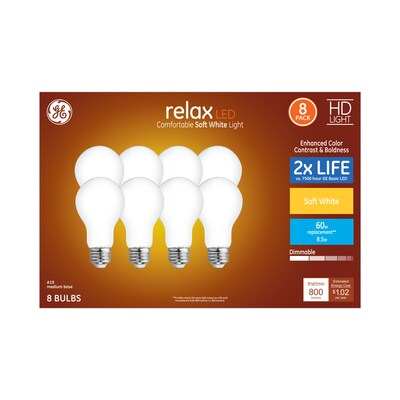 These GE Relax bulbs have a lovely soft white appearance – even softer than a soft white incandescent bulb! This A19 60W replacement bulb consumes just 8.5W and is a great option for anyone, but especially those on the autism spectrum. It will give you the light you need but without the irritating overstimulation.
I have outfitted my entire unit with these, from my living room lamps to the bathroom and closet light fixtures. My kitchen already has LED track lights but those aren't horrid so I left those alone. The only thing they would not be an option for is totally enclosed fixtures as these are not rated for those. As with all of those types of fixtures, you'll need to choose bulbs that are rated for them or remove the enclosure entirely (as I did with my closet fixture).
Anyway, I hope this helps somebody. Good luck!