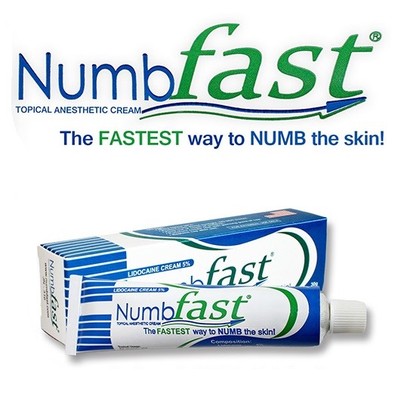 As mentioned prior, numbing creams are a controversial topic in tattoo culture. There are a vocal minority who adamantly protest the use of these products but it seems for the most part it's become more acceptable. As the ribs are quite a sensitive area and given color packing is usually the most painful part of a tattoo (due to the heavy hit, large needles and multiple passes made over an area to pack color) I knew I was going to need some help to get through it. I should say the line work and graywashes didn't really hurt that bad, even on the side. That said, the solid black fill on the silhouette (which, despite being black ink, is color packing as opposed to shading/graywash) was sheer agony. That's what made me decide "OK, numbing cream it is."
I'd tried a couple of products before. For my first tattoo I had a Canadian friend smuggle me in some EMLA, which is only Rx in the US. I then tried Hush and found it largely ineffective, not to mention it burns like hell when you put it on due to the menthol base. So I looked around and I decided to try this product, which was reasonably priced (about $15 for a 30g tube; covers about a 6″ x 6″ area) and had a strong concentration of lidocaine (5%) so I figured I'd give this a go.
The directions included say to apply and rub in the first layer then smear a thick layer over the area and cover with saran wrap or similar cover for at least two hours to let the cream take effect. I did exactly that and by the time I got to the tattoo parlor and got cleaned off and shaved I was numb – I couldn't even feel the razor against my skin while I was being shaved.
Getting up on the "operating table" and getting underway I was expecting a "dull roar" as it were. What I experienced was anything but – I felt little more than the vibration of the machine. I do think some areas got numb a little easier than others as I still felt needles in areas more than others, but it was little more than a mild sting – think a fresh mosquito bite. The pain remained more than tolerable for 1.5 hours, at which point it was almost like a light switch and the pain became near excruciating again. Luckily by this point there was enough broken skin for the Vasocaine spray (also 5% lidocaine) to take over and keep the pain manageable for the rest of the session (note: I required two sprays of Vasocaine during the last 1.5 hours of the 3 hour long session). I'm also positive this would have a similar efficacy for most body piercings, with the exception of ear cartilage piercings and/or tongue piercings (sorry, you're on your own with those), permanent makeup, injections, blood draws and a number of other things.
I asked Jade if it affected how I took the ink at all and she said no, much to my relief. Some numbing creams can affect it – EMLA being one of them because it contains epinephrine. Alas, my skin is very easy to tattoo anyway (I have a good, but not excessive amount of elasticity and I accept all pigments equally well) so that might be part of that.
In my experience with NumbFast, I've come to the conclusion that the key for effective numbing is not so much brand but rather a 5% concentration of whatever numbing agent it uses – be it lidocaine, prilocaine or a mix of the two (as is in EMLA – it's 2.5% each lidocaine and prilocaine). Anything less than that does not have adequate strength to effectively numb the skin. Unfortunately, Texas is a stick in the mud in that tattoo shops cannot buy numbing agents of this strength so if you live in Texas you're on your own (that's OK – I supply my own which is a workaround). That said, NumbFast does meet this requirement of 5% concentration and as such this cream gets my seal of approval as a numbing cream. Just be sure you follow the instructions exactly as written to achieve the desired effect.
Rating: 4/5.